Need a Web Scheduler that's got your back?
Climb out from under the piles of missed calls & voicemails and back to the front-lines of your business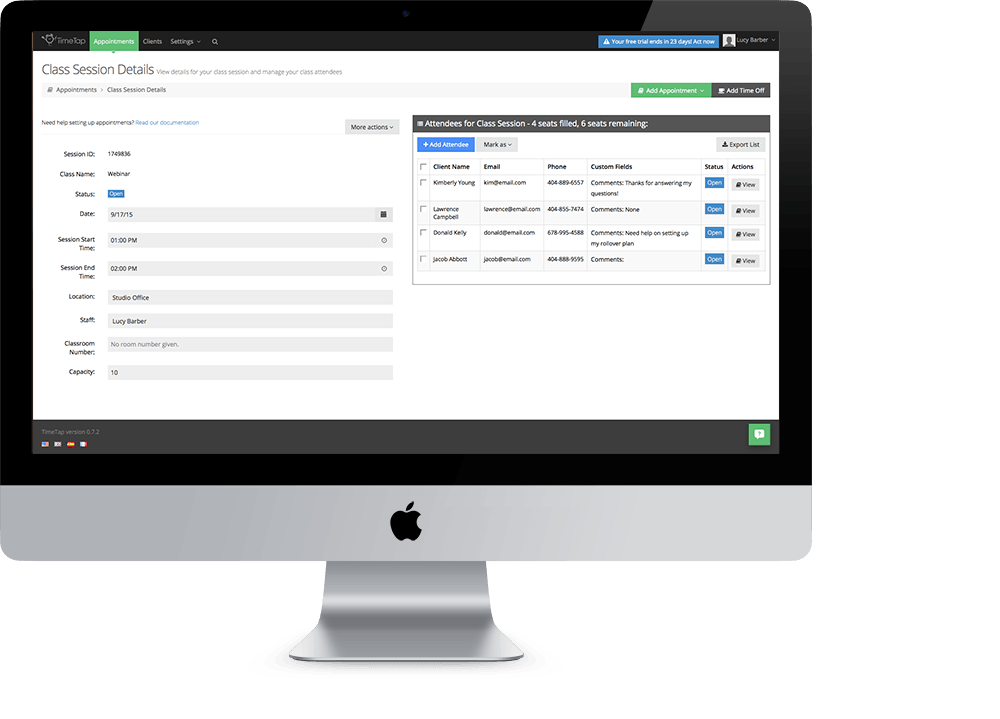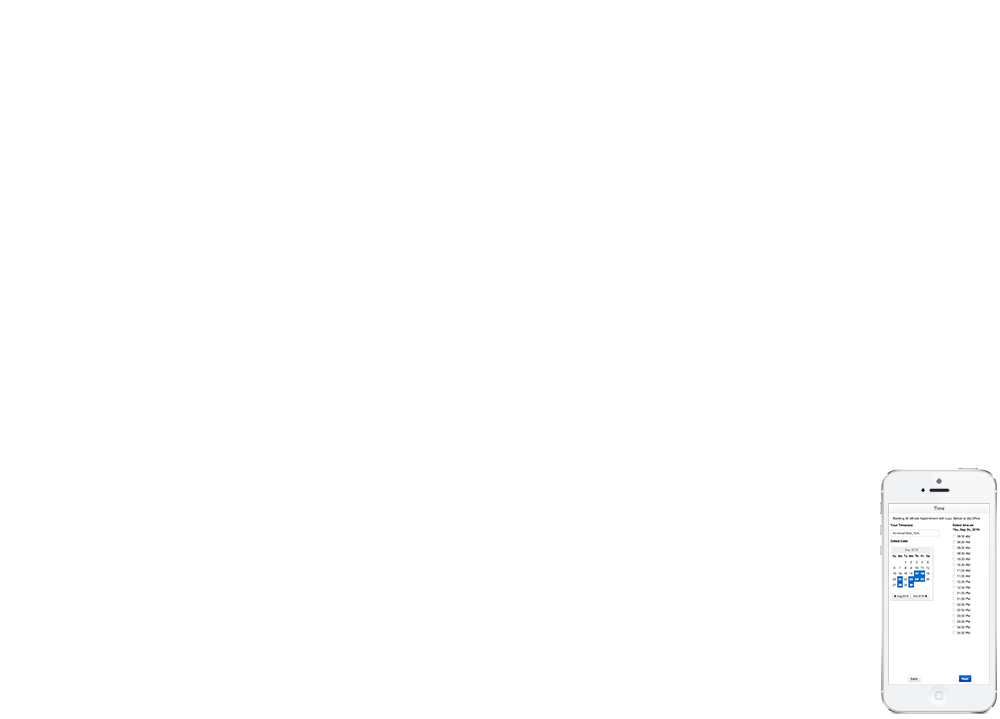 The Right Cure for your Scheduling Pains:
Our philosophy is to give you space. With a web scheduler that works for you 24/7, you can keep the phone on the hook and focus on growing your business.
Try an appointment manager that organizes your day to day and gives you room in your schedule to be the best service provider for the clients that are with you right now.
Features Include
Unlimited Appointments, Clients & Services
Don't let software hold you back when you have a busy month.
Learn more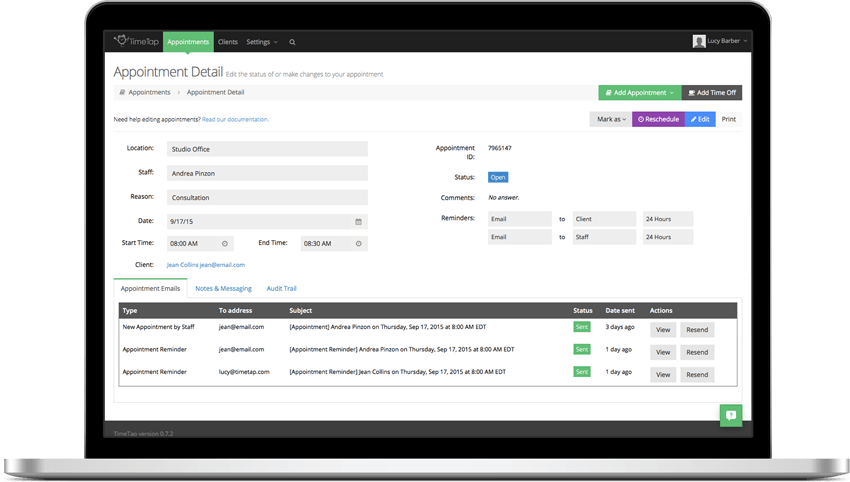 There's a certain amount of unnecessary anxiety when the scheduling software you use tells you that it's free for up to 100 appointments a month. With TimeTap's Web Scheduler, you don't need to worry about barriers that are essential to your businesses success.
You get unlimited appointments and clients every month so you don't have to worry that your success means your online booking system may be taken down until the next month.
Schedule 1-on-1s or Groups
Get people booked for your 1-on-1 meetings or your class or group sessions all from the same app. Keep track of which clients show up and which ones don't make it and get instant reports on attendance rates.
Track your business growth
With no cap on your appointments, you can always aim to do more each month. Grow your bottom line by beating your booking rates month over month. It's simple to setup and even easier to maintain!
Complete Appointment Management
Wake up every morning with your schedule already prepped
Learn more
Paper based scheduling is a disjointed process. You take the client's phone call and write down on a calendar when they're coming in. You carry that calendar around with you so you can reference it at any time and then have to pull it out each night to send out email reminders.
TimeTap has combined all of these tasks into a total appointment management system. You'll feel the joy of booking after just a few days of fewer logistical headaches and feel less stressed that you're not doing enough to be available for your clients.
Offer comfort to your clients
Like you, your clients lead busy lives. They have kids to drop off at practice and work to finish before a deadline and nosey co-workers they don't want eavesdropping on their phone calls. By offering an online booking system, you're easing the burden of your clients' (sometimes overwhelmingly) busy lives.
Show Clients you care
Your clients want to meet with you and you want to meet with your clients, but neither of you want to spend 30 minutes setting the appointment time. That's at least how long it feels between emailing back & forth or playing phone tag to try and set a meeting date. Offering easy online booking shows your clients that you respect their time.
Don't underestimate the power of automated scheduling.
Get a web scheduler on your site today! Start your 30 day free trial. No credit card required.
Sign Up Free
Stop stressing about your schedule.
Get a web scheduler on your site today! Start your 30 day free trial. No credit card required.
Sign Up Free
Don't underestimate the power of automated scheduling.
Get a web scheduler on your site today! Start your 30 day free trial. No credit card required.
Sign Up Free
Don't underestimate the power of automated scheduling.
Get a web scheduler on your site today! Start your 30 day free trial. No credit card required.
Sign Up Free
Data Security that's in a league of its own
Rest easy knowing your clients' data is protected from hackers & data loss.
Learn more
Your information is your information and we've taken every precaution to make sure it stays that way. With the security standards we have in place, you won't have to worry about logging in to see that your data has gone missing or, worse, been shared across the web.
Data loss and data theft are real issues of our time, and we know the businesses who use our system have concerns about it. Read on to learn about all of the security practices we have put into place.
HIPAA Compliant
We comply with all HIPAA standards to keep your medical practice protected. TimeTap customers can download a copy of our signed Business Associate Agreement straight from our site. View our HIPAA Compliance page to learn more.
Daily Backups
We take full hourly backups of our servers and store them at a remote location to ensure that your data is never lost. We have our servers scanned regularly for any vulnerabilities and keep them secured according to PCI-DSS standards.

Using TimeTap is a Piece of Cake
It'll make managing your schedule feel (at least a little) like Zen.
Learn more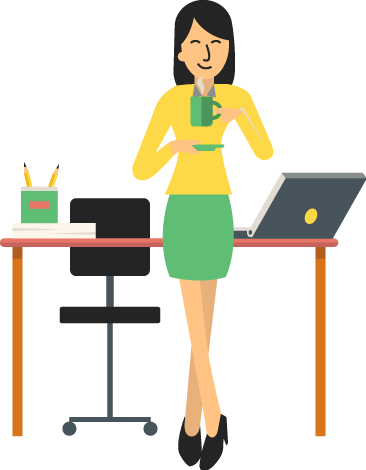 A Clean & Intuitive design makes your web scheduler simple to use for both you and your clients. TimeTap features beautiful, fluid calendars & lists to navigate and manage your appointments efficiently.
With color coding, it's easy to understand you and your team's schedule at a glance. We know that scheduling can take a lot of time out of your day which is why our web scheduler is designed to get the job done fast without all the headache. It shouldn't take a rocket scientist to get something on your calendar!
Leave your competitors behind
You'll have online scheduling figured out in no time and start gaining leaps & bounds on your competitors. Service providers who are easy to schedule with always beat the providers with out-of-date booking systems.
Stellar support to help you succeed
Work with our team of scheduling wizards to help reach your goals faster.
Learn more
At TimeTap, we aim to deliver the best software support experience you've ever had. We believe that our success is only at the result of your success and strive to foresee challenges our users will face and help them avoid those challenges.
Any questions that you submit to our support staff will be thoughtfully answered, typically within a 3 hour window. Each member of our support team is well versed in common scheduling challenges and can help provide insight on what you should do when these challenges arise.
Helpful Documentation
If you are more of a self-learner, we've got loads of documentation for how to setup your account and use all the different features. You can check it out here or from the help docs link from within the app.
Priority Phone Support
All of our TimeTap Plus accounts come with priority phone support. Our support line is open from 9am - 7pm US/Eastern. You can also schedule a support call with us if you'd rather set aside some time to talk.